Naturally active
Alpaderm uses noble and natural ingredients that are active by nature.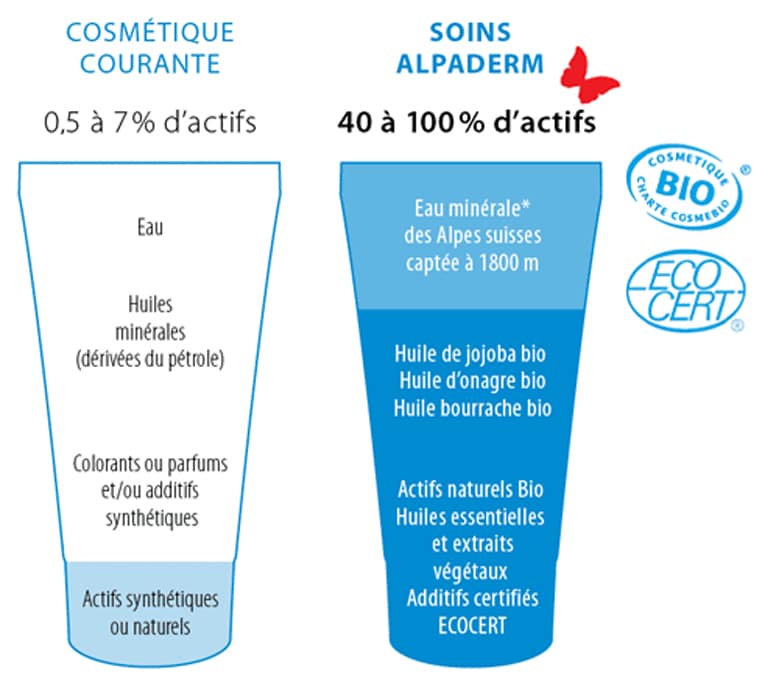 A
Aloe vera or aloe is a perennial plant belonging to the Liliaceae family, which counts about 300 species, originating in South Africa. It is cultivated in many countries.
Almost entirely composed of water (99%), the remaining 1% of this plant's composition comprises a concentration of over 150 elements, including vitamins A B1, B2, B3, B12, C, E, trace elements (calcium, sodium, magnesium, zinc, potassium, …) and amino acids.
The pulp contained in its leaves is harvested and used in the form of gel or powder in the cosmetics industry.
Cosmetic properties:
Aloe vera's cosmetic benefits are numerous and its main virtues are as follows: it hydrates, purifies, repairs, soothes and slows the effects of time.
On dry, very dry and damaged skin, aloe vera will repair and give suppleness to the skin, thanks to its high concentration of vitamins and nutrients. Aloe vera is particularly suitable for sensitive skin, since this plant respects the most sensitive skin types.
B
Beeswax integrates more than 300 components, the nature of which differs, depending on the species. Surprisingly enough, beeswax contains around 14% of perfectly natural saturated hydrocarbons, as well as numerous esters which are organic compounds, and very interesting fatty acids.
Cosmetic properties:
Its fatty acids help nourish the skin and make it more supple and softer. In this way, beeswax, which is both hydrating and emollient, also has the ability to deposit a protective film.
In winter time, beeswax is also particularly recommended for dry skin as well as for mature skin, which needs elasticity.
Naturally rich in vitamin A, beeswax deeply moisturizes and nourishes the epidermis. It also creates a natural film on the skin, thus protecting it from external aggressions (sun, cold, wind). Its restorative properties also constitute a major ally for all skin types, in particular for sensitive skin, which highly benefits from its soothing and healing benefits.
The use of beeswax in cosmetics is also due to its ability to bind the different components of a treatment, bringing smoothness to textures.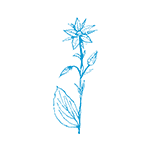 Borage is a plant belonging to the Boraginaceae family, which is fairly common in Europe. The oil, extracted by cold pressure from its seeds, is renowned for its preventive and curative benefits on the skin due to its high content of gamma-linoleic acid (greater than 20%). Borage oil is an excellent source of omega-6, twice as good as evening primrose oil.
Cosmetic properties:
This oil, exceptionally rich in polyunsaturated fatty acids and vitamin A, D, E, K, has real regenerating power on the skin. It restores suppleness, elasticity and vitality to dry, devitalized and tired skin. Incorporated here in a much larger active dose than usual, it reveals all its benefits, including an action on certain prostaglandins, soothing inflammatory tendencies. We can also observe its action on certain dermatoses, including eczemas and psoriasis, resulting in the reduction of itching and redness.
C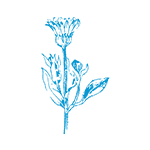 Largely widespread and cultivated in gardens throughout the temperate parts of Europe, calendula does not exist in the wild. Its beautiful yellow flowers are full of virtues.
Cosmetic properties
Calendula is a very good active ingredient for softening treatments. Renowned as a moisturizer and an antiseptic, it is regarded as being the quintessential skin plant. It also constitutes a protective element in the treatment of cracks, frostbite and chapped skin, as well as irritation and sunburn.
It is antiseptic, healing, restorative and anti-inflammatory.


Cornflower is an annual plant belonging to the Asteraceae family. C'est une centaurée qui aime habiter les endroits où l'on fait les moissons : champs de blé, de colza…
Cosmetic properties:
Cornflowers are mainly used in eye cosmetics, but their composition also makes them an interesting plant to soothe skin inflammation, namely thanks to its content of flavonoids, which have an antioxidant and protective action on the skin tissue, polysaccharides, which seem to have an anti-inflammatory action, and tannins, that tighten inflamed tissue.
D

The Damascus rose, Rosa Damascena is a rose hybrid derived from Rosa gallica, Rosa moschata and Rosa fedtschenkoana. It is a temperate plant indigenous to Europe and Middle East countries of Iran and Turkey. It is believed that the Damask rose was imported from Iran to Damascus after the Muslim invasions, and introduced to European countries. Presently, Iran, Bulgaria, Turkey, France, Italy, Morocco, Russia and India are the main countries where it is cultivated in large-scale for the production of oil and rose water. Also, in the Persia (8th century or earlier), Turkey and the Arab countries (after the Muslim invasions), that rose water was originally used for skin care from the tenth century.
It is believed that the Damask rose was imported from Iran to Damascus after the Muslim invasions, and introduced to European countries.
Cosmetic properties:
Rose water has soothing, but also invigorating properties, not to mention its refreshing effect and its subtle smell. Thanks to its astringent properties, rose water is recommended for oily or acne prone skin. Mature skin types will also appreciate it for its anti-aging action. Rose water is very popular in olfactory therapy to relieve tension and help find inner peace.
E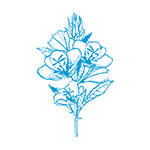 Still widely called "Evening primrose", the evening primrose, originating from North America, only appeared in Europe in the 18th century. The plant was known to the Indians for its medicinal and nutritive properties. Its flower capsules contain several hundred very small brown seeds at maturity, from which this oil is extracted. Its richness in essential fatty acids justifies its use in cosmetics, particularly indicated in reducing water loss from the epidermis surface layers and reducing inflammation.
Cosmetic properties:
Evening primrose oil is particularly rich in linoleic acid and also in gamma-linolenic acid, which are direct precursors of anti-inflammatory compounds. A set of metabolic chains will lead to the synthesis of type 1 prostaglandins (PGE 1). Through this process, Evening Primrose Oil has been widely studied for its beneficial effects in inflammatory pathologies, including dermatological problems, among which, atopic eczema and psoriasis.
Evening primrose oil protects the skin from premature aging. Its content of fatty acids, which are protective elements for cell membranes, give first-rate regenerative properties: softening, revitalizing, restructuring and genuinely anti-wrinkle. Therefore, whether the skin is oily, dry or simply normal, evening primrose oil regulates its hydration, and protects it from external aggressions (sun, cold, wind, pollution).
G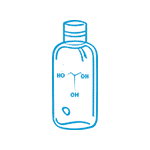 Discovered at the end of the 19th century, glycerin comes from saponification, a process which makes it possible to make soap from fatty matter. The glycerin contained in Alpaderm soaps is synthesized from coconut oil.
Cosmetic properties:
Glycerin is a hydrating, emollient and protective agent.
It has the property of retaining several times its weight in water, which makes it an essential moisturizing active ingredient, by forming an occlusive film (barrier) on the epidermis, thus limiting moisture loss. It also has a repairing action on the epidermis, by promoting lipids synthesis within the epidermis.
Glycerin also has a smoothing action on the skin, restoring its natural defenses, improving its elasticity, and regulating flaking.
It also offers softening properties and provides protection and a barrier against external aggressions such as cold, wind, pollution, UV.
J
The jojoba is a shrub species belonging to the Simmondsiaceae family. This shrub, more commonly called "wild hazel" grows in the deserts of Central and South America. It has roots that stretch up to 30 m deep and settle in sandy soils, capturing their micro-humidity and thus resisting to integral drought cycles of 12 or 18 months. Jojoba oil is extracted from wild hazelnut oil seeds, obtaining a liquid wax at room temperature, which has been used for centuries by the Indians for its healing and beautifying properties when applied to the skin and hair.
Cosmetic properties:
Its rich saponifiable matter content confers it remarkable protective and anti-aging properties. Jojoba oil is a genuine liquid wax whose affinity with the skin sebum guarantees the maintenance of the protective hydrolipidic film; it also activates elastin synthesis and slows down water loss from cells, thus making it an ideal product for dehydrated and very dry skin. Revitalizing, anti-wrinkle and deeply regenerating, this oil helps the skin remain supple, elastic and soft
L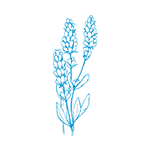 Originating in Persia and the Canary Islands, lavender was probably established in France by the Phocaeans, in the same way as vineyards and olive trees. The small 20 to 60 cm high bush grows in the Mediterranean region and particularly likes arid and calcareous hillsides.
Its name comes from the Latin "lavare", which means "to wash", and "lavanda" "which is used to wash", which proves that its use was already at the time associated with physical and psychological cleansing and purification.
Cosmetic properties:
Classified in the 18th century as a cephalic plant, lavender was then used a bit like rosemary is today, against nervous diseases. Lavender water was also used as a soothing agent in the bath because its antiseptic and soothing properties were already recognized.
Lavender hydrosol soothes, heals and softens sensitive skin and irritated scalps. It purifies the oiliest skin types and cleanses the scalp.
M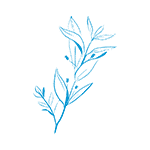 Issued from the myrtle leaves of a shrub belonging to the Myrtaceae family, the green myrtle essential oil is often used in the treatment of dermatological problems. It is drawn from a shrub originating in Corsica, measuring between two to three meters in height, with persistent pointed evergreen leaves and bright white 5-petal flowers. After a complete steam distillation of the leaves, a natural essence is obtained, giving off a slightly resinous and waxy fragrance.
Cosmetic properties:
Myrtle essential oil likely hides cosmetic properties that are still little known. Rich in cleansing, astringent and anti-inflammatory active ingredients, it is an excellent remedy for skin problems and signs of aging that prematurely appear on the face. It is also indicated to treat acne breakouts.
P
Palmarosa, also called "Indian geranium" is an herb that initially originated in India and Indonesia and is widely cultivated for its aromatic oil, with a rose and geranium fragrance.
Cometic properties:
The Palmarosa essential oil is known to cleanse skin with imperfections or prone to discomfort. Thanks to an antifungal and antibacterial action, this oil is reputed to purify and balance the sebum. It is also refreshing and soothing.
S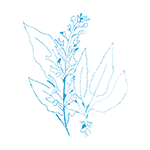 Sage is a sub-tree belonging to the Lamiaceae family with gray-green leaves and blue-purple flowers. The salvia oficinalis is frequently found as an ornamental plant or as a condiment in gardens. It is a sacred plant considered as a genuine panacea since Antiquity; its name comes from the Latin "salvare" which means "to save" or "to cure".
It has been credited for centuries with multiple virtues: digestive, astringent, healing, fortifying, purifying and antidepressant.
Cosmetic properties
Sage is recognized for its reinforcing power on the hair fiber. It prevents hair loss by strengthening the hairline. It restores brightness and vitality to dull, worn and damaged hair.
Regarded as being purifying and balancing, sage hydrosol is used to regulate sebum secretions and limit excessive perspiration.
Sea buckthorn is a thorny shrub that cannot live without light, to the point of dying when it is located in the middle of larger trees. It continuously seeks the sun and salty grounds, and forms impenetrable bushes on the shores of the English Channel and the North Sea.
Cosmetic properties:
Sea buckthorn contains two specific elements, the palmitoleic acid (a rare fatty acid) and the carotenoid, which seem to have a beneficial effect on burns, eczemas and dermatitis. In addition, its high content of tocopherol (vitamin E), recognized as an antioxidant, limits the damaging effects of oxidative processes within the epidermal layers. All of the above leads to the fact that its regular use contributes to maintaining the skin's beauty, reducing sclerosis and preventing the appearance of wrinkles.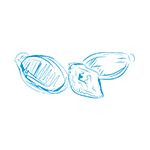 Made from the nuts of an emblematic tree from the West African savannas, shea butter has been used for centuries by local people. Its nourishing, hydrating and protective properties make it essential both in aromatherapy and in cosmetics. Even though it belongs to the large family of vegetable oils, it is solid at room temperature and melts at around 35°C
Cosmetic properties:
Shea Butter is particularly rich in unsaturated fatty acids and its rich and creamy texture gifts it with very interesting properties: anti-inflammatory, soothing, softening, protective… Shea Butter is also rich in vitamins, A, D and E, thus helping nourish the skin and speed up healing. Shea Butter is a natural solution, widely recommended to maintain in-depth skin hydration.
W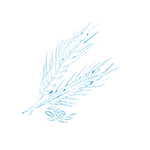 Wheat germ oil is a source of vitamin E, essential fatty acids (polyunsaturated and omega 6), but also of carotenoids and vitamin K. With a pleasant cereal smell, it is also very pleasant to the touch.
Cosmetic properties:
Protective and nourishing, wheat germ oil prevents skin aging and loss of elasticity, thanks to its antioxidant and regenerating properties. It can be used in treatments on dry or even very dry skin and promotes healing. It smooths and softens the skin.
The organic witch hazel hydrosol comes from a North American shrub, called witch hazel virginia. It was formerly nicknamed "Witch hazel" because of the shape of its leaves, or "Golden Spiders Tree " because of its strange yellow flowers.
Cosmetic properties:
Witch hazel flower water is a hair conditioner that leaves hair easy to comb, flexible and shiny, giving them volume and light. Witch hazel is known to stimulate skin microcirculation and regulate the scalp's seborrhea. In addition, it offers soothing properties, helping to soften the scalp.
This post is also available in: French